Corrosion is a common problem in a number of metal devices and appliances. A result of long-term moisture exposure, it can develop quickly along evaporator and condenser coils and potentially lead to the failure of the air conditioning system.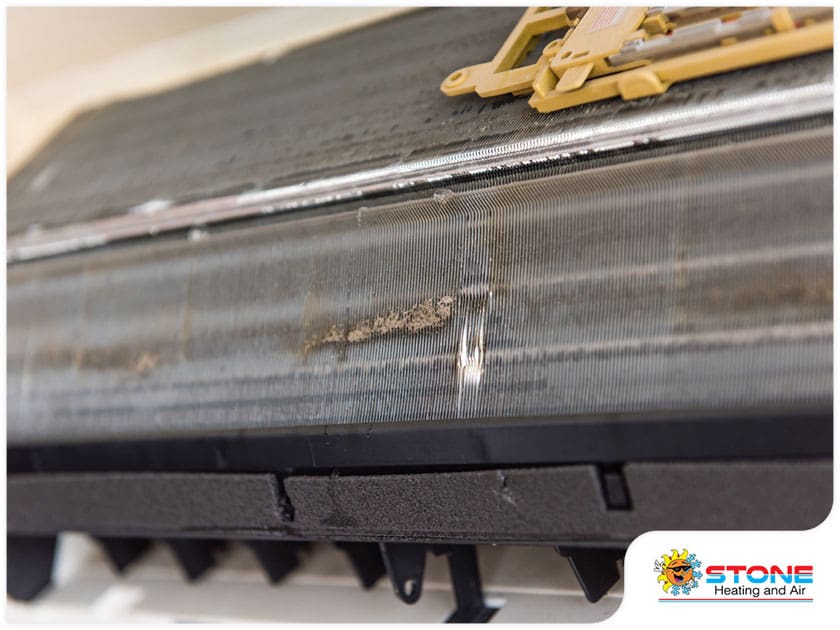 In this post, Stone Heating and Air — one of the area's most trusted HVAC companies — shares more information about corrosion in air conditioners.
What Causes Corrosion in Air Conditioners?
Outdoor AC units are constantly exposed to the elements, and moisture in particular poses a threat since it can trigger corrosion on the AC's metal coils. Although the AC cabinet can keep water away from most of the AC parts, it can't provide complete protection. Water can get in via the unit's grille, or your AC can be afflicted with formicary corrosion.
Formicary corrosion is a type of corrosion caused by the reaction of copper to formaldehyde. It produces weak patches along the copper and affects the indoor components of an air conditioner. It's also one of the most common causes of refrigerant leaks. Formaldehyde is found in many homes, and it can be difficult to get rid of. Chlorine and fluoride, which are present in homes as well, may also cause corrosion.
Another common source of corrosion is a dog's urine. If you have dogs at home, make sure that they relieve themselves away from your AC unit.
How Can Corrosion Affect Your Air Conditioner?
Air conditioning companies usually warn about the loss of refrigerant as a result of corrosion. As the copper of refrigerant coils corrodes, this high-pressure chemical finds it easier to escape, which reduces the amount of refrigerant in your air conditioner.
When the refrigerant level dips below the recommended amount, your whole AC unit could be at risk of damage or failure. Your AC will likely lose its cooling power, the indoor coil will freeze over, and the compressor will overheat and burn out. In this case, it's best to replace the entire AC unit.
Stone Heating and Air is one of the most reputable cooling and home heating companies in the area. We offer a variety of HVAC services ranging from repairs to replacement. Call us at (541) 855-5521 or fill out our contact form to request a quote.