The gas furnace is the most common energy-efficient heating system, but some homeowners fear that they're a safety hazard. While this isn't exactly true, with a natural gas furnace you do need to take some safety precautions. Stone Heating and Air, your local HVAC repair company, presents five tips to follow that will keep you safe this winter while using your gas furnace.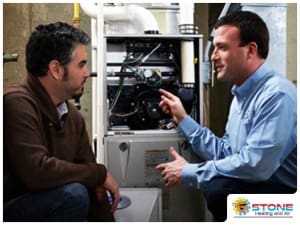 Regular Maintenance Before Winter Sets In
Regular maintenance is key to preparing a gas furnace for the first days of winter. Technicians will test for gas leaks and catch any malfunctions that can lead to hazards, which will keep your furnace running safely and efficiently.
Change or Clean Air Filters Monthly
Your furnace contains an air filter that prevents debris from getting into the cabinet. After a month of steady work, its filter will become congested, which can lead to safety issues. Let your HVAC replacement technician show you how to change or clean the filter on your own, then continue doing it for the rest of the winter.
Clear the Area Around the Furnace
The outside of a furnace heats up as it operates, which can cause flammable objects near it to catch fire. Make sure that nothing is lying near the furnace's cabinet, and as an added precaution you should never let children play around the furnace.
Check Your Carbon Monoxide Detectors
If you don't have carbon monoxide detectors, get them in place right away! They're easy to install on your own or with help from your local air conditioning repair company. If you already have them, run self-tests to make sure they're working properly, and change the batteries if they aren't.
Call for Repairs the Moment Problems Arise
It's vital that you have your furnace attended to immediately when problems come up, even small ones. If left unchecked, simple problems can turn into complex and rather expensive ones. Just call on our furnace repair professionals; we'll fix any problem fast before it becomes a safety issue.
Turn to Stone Heating and Air for gas furnace maintenance and repairs. Give us a call at (541) 855-5521 or fill out our contact form for a consultation.